Our trains are pulled by old fashioned steam and diesel engines. Your carriage will probably be a bit special too …
Steam Days
Our vintage steam locomotive Russell will share the steam days with Gertrude. We think thay make a lovely couple!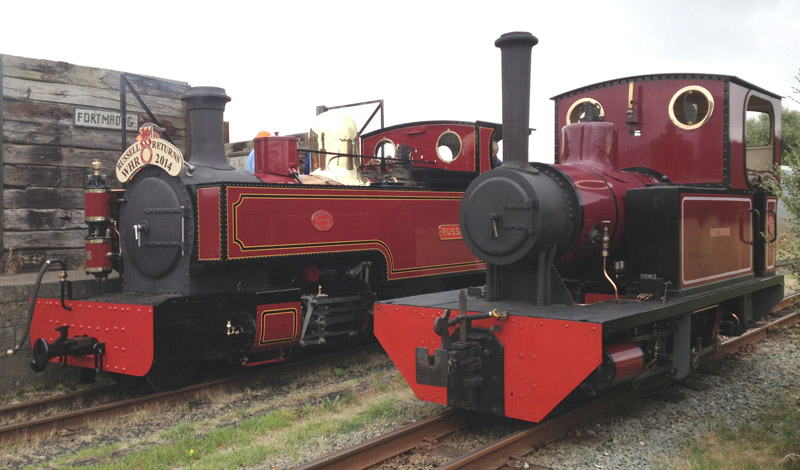 Gertrude (Barclay 1578 of 1918) – is an 0-6-0 tank engine built in Scotland, which spent her working life in the iron industry, first at a quarry in Oxfordshire and then at a steel plant near Wolverhampton until she was withdrawn in 1959. It was almost fifty years before Gertrude would steam again. The job was completed in August 2009, when Gertrude pulled her first passenger train in over 90 years. Gertrude has her own website here.
Russell (Hunslet 901 of 1906) – The Pride of the Welsh Highland Railway, has had a varied career. It was ordered in 1906 by the Portmadoc, Beddgelert & South Snowdon Railway Company and set to work for the North Wales Narrow Gauge Railways Company until that company, together with the P. B. & S. S. Company was incorporated into the Welsh Highland Railway in 1922. First restored in 1987 she returned to service on the WHHR in August 2014 following an extensive overhaul.
Ask the driver and fireman to show you how they put coal in the fire to keep the engine going.
Diesel Days
Our main diesel engine is Emma, a modern four wheeled Hunslet diesel, which helped build the London Jubilee Line extension and the new Olympic Stadium in East London. When she came to us she was white so that the tunnel workers could see her in the dark.
You may also see Glaslyn in service. This engine is named after the river that runs from Snowdon to Porthmadog (maybe that's why it's painted blue?)
Your Carriage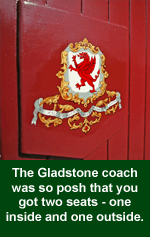 Your train may include the carriage that the Prime Minister rode in when he visited the railway in 1892. The Gladstone Coach was so posh that you got two seats for your money one outside for nice weather, and a second seat inside so you could keep dry if it started raining! Today it's just as posh … it's the one with the curtains and carpet!
The Gladstone Coach is just one of the restored carriages you can ride in. If you're lucky, the Buffet Car from the original Welsh Highland may also be in service and you can enjoy a drink along the way. It was the first Buffet Car on a public narrow gauge railway and was converted in 1927 in an attempt to attract tourists. It took us 5 years to restore this carriage. The main problem was that it had been cut in half!