The Welsh Highland Heritage Railway is an run almost entirely by volunteers in their spare time.
Maybe you'd like to join us, or just follow our progress from a distance? Find out how below.
The original Welsh Highland Railway was one of the greatest white elephants of Wales's industrial history. It opened in 1922, and closed in 1937, lasting just 15 years. Find out more abouth the history of the railway in the Engine Sheds.
There's another railway with a similar name to us which runs through Snowdonia. You can find details about it here.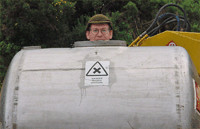 Volunteering
Whether you're a skilled engineer, enjoy hacking away at undergrowth or just like talking to people you have something to offer the railway. You may even want to help to keep this website up to date!
Please take a look here or contact us to see how you can get involved.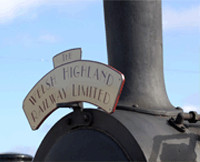 Membership
The railway is operated by the Welsh Highland Railway Ltd., a democratic member owned charity.
Members are in a privileged position of actually owning the railway. Some simply follow our progress from a distance. Others are active volunteers who keep us running by doing everything from driving the engines to laying track.
We currently have over 1,000 members from as near as Pen-y-Mount and as far as Thailand who support our work. Some are regular volunteers, who live down the road and never leave the place… others call in once or twice a year to see how we're doing… some haven't ever been to Porthmadog.
Membership includes:
Free travel on our trains (except at our gala events)
Regular magazine "The Journal"
Chance to attend and vote at the company AGM
Opportunity to decide policy and influence our future by becoming a Board member
Annual membership fees are:
Adult - £30
Senior (over 60) - £20
Child (under 18) - £15
Family (parents with children under 18) - £45