Your return ticket is valid all day...
...so you can ride up and down as many times as you wish!
Return
Fare
Family (2 adults & 2 children)
£25.00
Adults
£9.50
Children 3 years and over
£4.75
Children under 3
Free
* Discounted Group Rates are also available. Click here for details.
* Single tickets are also available; please enquire for details.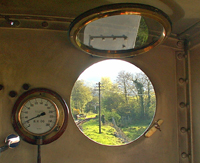 Get a driver's eye view with a £16 footplate pass
You can ride up front with the driver for the whole journey and see how everything works. Sorry, but its adults only.
If you enjoyed that why not go for the ultimate driver experience - having a go yourself! Click here to find out more about our full day or evening courses.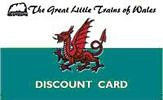 Great Little Trains of Wales Wanderer Tickets
Travel on ten of the country's famous little trains over a four or eight day period and get 20% discount on each return trip.
Adults £10 - Click here to buy on-line.