Return
Fare
Teulu
Family (2 adults & 2 children)
£30.00
Oedolyn
Adults
£11.50
Plentyn
Children 3 years and over
£5.50
Children under 3
Free
Well-behaved dogs
Free
Discount & group fares
please enquire
Single tickets have been suspended until further notice.
Except for the coloured special event days (more information), tickets will be available for purchase on the day of travel, on a first come first served basis, and can be used for travel on all trains for the rest of the day.
If you wish to plan in advance, we can take requests for reservations, by phone to or in person at our ticket office (01766 513402). Confirmed reservations not claimed and paid for 20 minutes before departure will be released for general sale.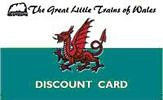 Great Little Trains of Wales Wanderer Tickets
Travel on ten of the country's famous little trains over a four or eight day period and get 20% discount on each return trip.
Adults £15 - Click here to buy on-line.