Return
Fare
Teulu
Family (2 adults & 2 children)
£27.00
Oedolyn
Adults
£10.25
Plentyn
Children 3 years and over
£4.95
Children under 3
Free
Group (per adult)
£9.20
Group (per child)
£4.50
Discount card holders
£8.20
Single tickets have been suspended until further notice.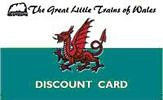 Great Little Trains of Wales Wanderer Tickets
Travel on ten of the country's famous little trains over a four or eight day period and get 20% discount on each return trip.
Adults £15 - Click here to buy on-line.