Take control of one of our steam locomotives for yourself!
If you fancy having a go, then you have two options, a full day driving experience, or an evening experience. If you just fancy getting a driver's eye view then you can ask to ride on the engine footplate of any scheduled service.
Evening Experience -- £155
Your chance to have a go at driving our steam engine for a return trip or two at the end of the day. You'll join the driver and fireman for the 16:00 train on board our vintage Andrew Barclay steam locomotive "Gertrude". Then, when the passengers have gone home, it's your turn.
After a short introduction to how it works, you'll take Gertrude up and down the line by itself (light engine), before returning to collect the carriages to do it again. The line is only three quarters of a mile long, but this means that you get to try main line running, and turning the train round in a short space of time.
Available on Saturday afternoons when we're running a steam service - have a look at the timetable to find out more. Please contact us for further details.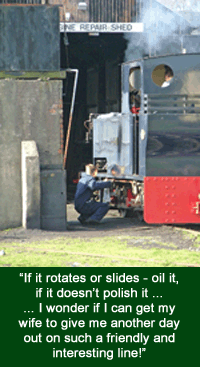 Full Day Driving Experience -- £540
You will get the railway to yourself for the day and individual instruction from our driver and fireman. An added bonus of this course is that it's a one-to-one experience; you won't be sharing the footplate with anyone else.

The day starts with preparation of the locomotive. You'll learn how to build the fire (including the right and wrong way to crumple newspaper and add the wood on top). Once you've oiled round, and the steam pressure is up, you can try your hand at a few trips "light engine", without the carriages.
Then, in the afternoon, you'll couple up to the train and set off up the line, before running round for the return journey. Test your new driving skills by seeing if you can buffer up without hitting the coaches too hard!
Available on certain selected Mondays and Fridays in October.
Course includes lunch and a full safety briefing. If you aren't already a member it also includes a year's introductory free membership of the WHR Ltd., and we hope you will then stay with us for many years to come. 
How to book
If you'd like to book either course or just want a bit more information please ring us on 01766 513402 or send an e-mail to info@whr.co.uk.
Terms & Conditions
Sorry, you must be over 18 to drive our steam locomotives. Steam locomotives can be dirty and hot places, so you'll need to bring suitable clothing - we can give you more advice before the day. We'll do everything we can to help if any problems crop up, but we can't be held responsible for additional expenses (e.g. hotel bills) if we have to reschedule because of problems beyond our control (e.g. the steam locomotive breaks down).