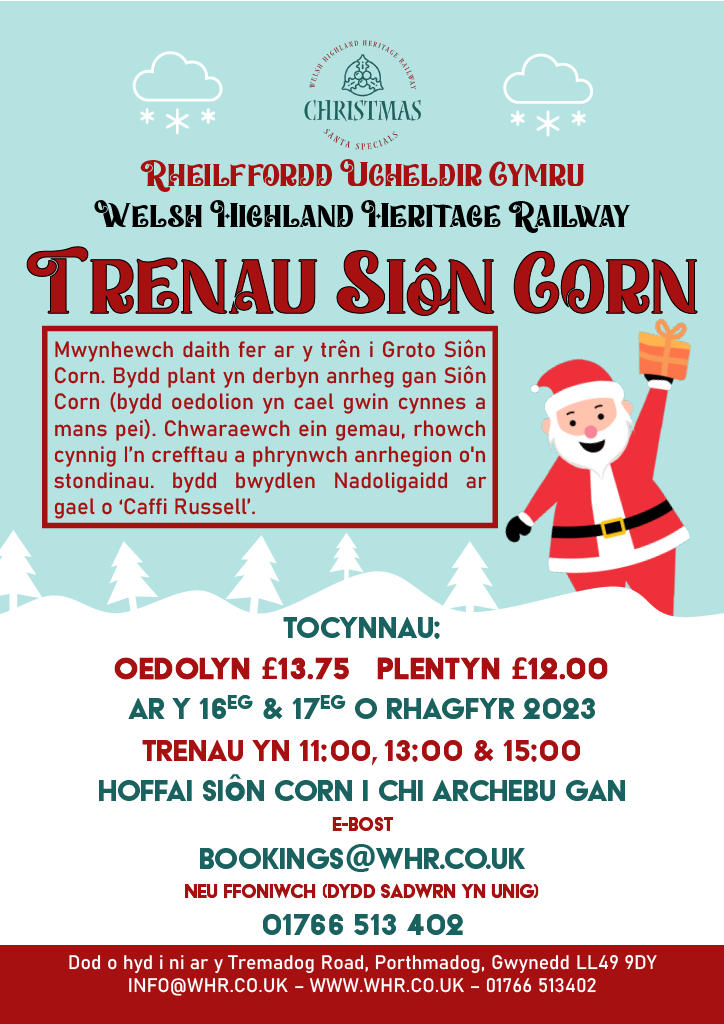 Mae'n Siop llawn anrhegion, modelau a llyfrau a Chaffi Russell, ar ei newydd wedd, yn awr ar agor ar ddydd Mercher, Iau, Gwener a Sadwrn.
Fe gewch groeso cynnes a byddwn ar agor, fel arfer, o 10 y bore hyd at 4 y prynhawn.
Trenau
Mae ein gwirfoddolwyr yn gweithio'n galed er mwyn medru ail-agor rhywfaint o'r rheilffordd a'r amgueddfa yn fuan, efallai erbyn canol mis Awst. Ond ni fedrwn gadarnhau'r trefniadau ar hyn o bryd gan fod cymaint i'w wneud i gael popeth yn barod. Cadwch olwg ar ein gwefan a thudalennau Facebook i gael y wybodaeth ddiweddaraf.
Cymraeg?
Diolch am ymweld â'n gwefan ni. Rydym ni'n ymddiheuro mai ychydig iawn o wybodaeth sydd ar y wefan yn Gymraeg ar hyn o bryd. Rydym ni'n gweithio i newid hyn. Efallai yr hoffech chi ein helpu ni drwy wirfoddoli i fod yn wefeistr Cymraeg i ni? Mae'n waith y gellir ei wneud wrth eich cyfrifiadur yn unrhyw le yn y byd. Os oes gennych chi ddiddordeb, cysylltwch â ni ar y cyfeiriad ebost ar waelod ochr chwith y dudalen.
Thank you for visiting our website. We're sorry that there's very little information in Welsh on the site at the moment. It's something we'd really like to fix - maybe you'd like to help us by volunteering to be our Welsh language webmaster? It's a job which can be done from your computer anywhere in the world. If you'd be interested in helping, please get in touch with us on the e-mail address at the bottom left of the page.