The Engine Sheds tell the story of Porthmadog's small railways and how they became famous around the world.
In the sheds you can climb into the cab of our steam and diesel locomotives, work the levers and see for yourself how things work. Find out how many tons of coal the fireman has to shovel each day, just to keep a steam engine going.
Our new video simulation means you can see inside the boiler of the steam engine where water boils at 600 degrees celsius to power the wheels round.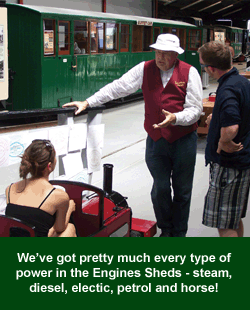 Meet Beano the horse (that's him at the top of the page) and see how slate trucks were brought down from the quarries before steam locomotives came along.
You can also sit at the controls of our small blue shunting locomotive and discover why you drive it sideways. Or climb up in the cab of the large red diesel engine where the driver even has a radiator to keep warm.
There's chance to find out more about the original Welsh Highland Railway, which was one of the greatest white elephants in British industrial history, and shut just 15 years after it opened and the Ffestiniog Railway, which carried thousands of tons of slate and influenced other railways round the world.