WHR100
The Welsh Highland Railway
Centenary Event
30th – 31st July
The Welsh Highland Heritage Railway is playing a major part in one of the narrow gauge events of 2022, the celebration on 30th – 31st July of the centenary of the re-opening of what had been the North Wales Narrow Gauge Railway between Dinas and Rhyd-ddu (then called South Snowdon), as the first section of the then newly emerging Welsh Highland Railway. Most of the event activities will be based at Dinas on the present Welsh Highland Railway, where we will be running our heritage train, comprising Russell, the only surviving steam locomotive from the original line, and original and replica carriages of the period. This will be the first time Russell has hauled passenger trains between Waunfawr and Rhyd Ddu for well over eighty years.
Tickets are now on sale on the Ffestiniog and Welsh Highland Railways website, with more details of the activities at Dinas. There is video footage of a trial run of Russell and heritage train to Beddgelert on 9th July in preparation for the event.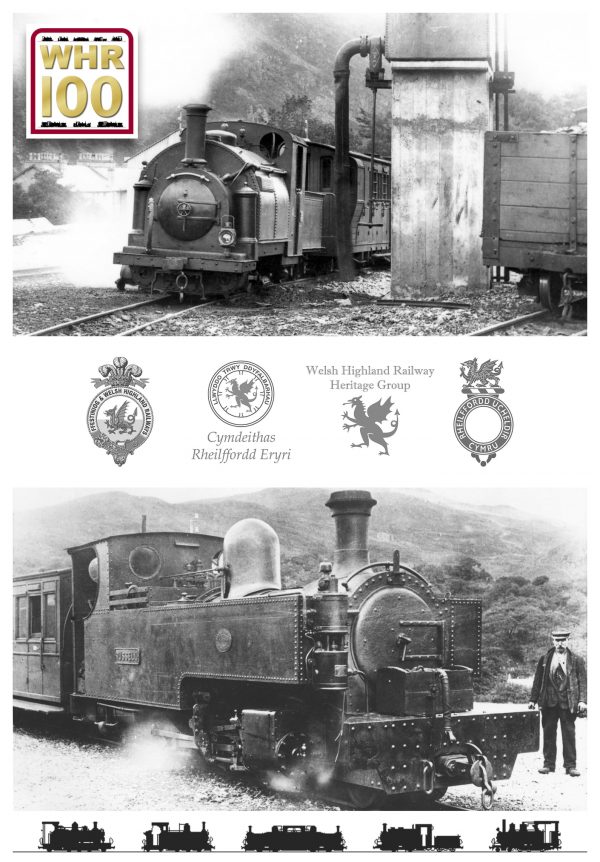 Whilst most of the event activities will be based at Dinas, there will be complementary activities based on our line at Tremadog Road Porthmadog with a railway construction theme, as the southern section of the original railway had not been finished in 1922.
A special visitor will be the only known survivor of the Motor Rail internal combustion locomotives involved in the construction of the original railway (works no. 2197), having been recorded as delivered via the original Beddgelert Siding, the site of the present day Welsh Highland Heritage Railway, in January 1923. It is on loan from the Moseley Railway Trust collection at Apedale and will continue to be with us through celebrations in 2023 of the full re-opening of the original line. It will be heading a demonstration construction train, alternating with an enhanced passenger service hauled by steam locomotive Gelert.
Included in the passenger train will be newly restored open 'toastrack' 42, based on an original built in 1923 for the then newly opened railway. Calls will be made at Gelert's Farm Halt at frequent intervals to set down and pick up visitors to the museum and the miniature railway which will be open and operating continuously. There will be visiting steam locomotives on the miniature railway, and opportunities to view more of our smaller diesel locomotives than on our normal service days.
Our well stocked gift and railway book and model shop, and Russell's Café with its delicious home-prepared food will be open throughout. Everyone is encouraged to get involved and have fun, with our staff and volunteers wearing period dress, the menfolk as construction workers walking around in flat cap, shirt, tatty pair of trousers and carrying a shovel or pick-axe!
All trains depart from and return to Porthmadog (WHHR), the first and last departures being at 10.30 and 16.00 respectively.
Event tickets: Family £37.50, Adult 14.50, Child £7.00. (£30.00, £11.50 and £5.50 respectively for Dinas Rover ticket holders, Ffestiniog Railway Society, Cymdeithas Rheilffordd Eryri, Welsh Highland Railway Heritage Group and Welsh Highland Heritage Railway members and Ffestiniog and Welsh Highland Railways staff).