The miniature railway runs round the engine sheds and through the woods.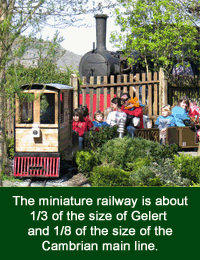 The rails are just 7 inches apart, but it still manages to carry passengers over a girder bridge and a miniature viaduct and through a tunnel.
Watch out for the duck house as the train crosses the stream, and for the crocodile which lurks in the undergrowth nearby. See if you can work out why the train leaves facing one way, but comes back the other way round it's the railway equivalent of a car doing a three point turn!
Normally the miniature railway operates whenever the main railway is running, but you can ring to confirm this if you want to. Rides are completely free to WHHR passengers, and you can have as many as you like. Adults and children are welcome to ride. We've even had a Doberman dog on board once…… just!