What can you expect to find when you arrive at our station?
Where to park your car, access for disabled visitors, whether you can bring your dog, what to do with the pushchair and most importantly … the toilets.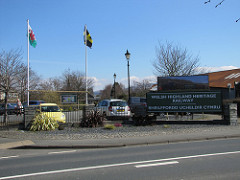 Car Parking
There's a modest sized free car park at Porthmadog (WHR) station, but it fills up quicky at busy times. There's more car parking over the level crossing, but you will have to pay to park here.
Click here for directions on how to find us.
Disabled Visitors
We want to everyone to enjoy their visit to our railway. If you do have any special needs there is no need to book in advance - although a phone call before hand will let us know if we can do anything to assist you.
A wheelchair accessible coach is available on all trains. It takes two wheelchairs at a time. Wheelchair users travel free. We also have two wheelchairs available for loan – just ask any member of staff. Most of the site is level.
Click here for more information on access.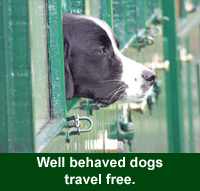 Dogs
Well behaved dogs (like Monty over there) can travel on the train for free – and will rewarded with a drink from the water bowl outside the shop entrance.
Toilets
There are toilets at Porthmadog (WHR) station. One of these is equiped for disabled visitors and also has baby changing facilities.
There are also toilets in the Engine Sheds with similar facilities.
Pushchairs
The wheelchair accessible carriage is also perfect for pushchairs. If someone got there first, just ask the guard to put the pushchair in the guard's van.
Alternatively the shop staff will be happy to keep an eye on it until you come back.