Baldwin '590' rebuild
Peter Thomason '590' Memorial Fund

Peter Thomason lost his life in a road accident in September 2003. He had been a life-long supporter of narrow gauge railways and of the Welsh Highland Railway in particular. Peter joined our Porthmadog-based company in 1972 at the age of 18. He became the much respected vice-chairman of the Company, and its financial advisor.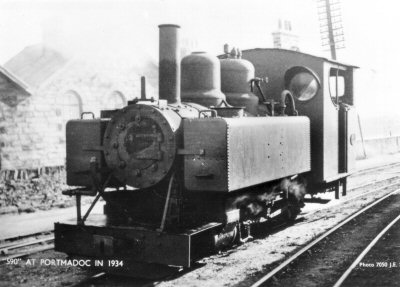 If Peter loved the Welsh Highland, then he loved the locomotives which ran on the original line even more. One in particular had been his favourite. This was a World War One Baldwin engine, purchased as War Department surplus by the company's management in 1923, and which was known by its War Department number of "590".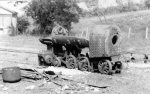 "590" was cut up for scrap soon after the line closed in 1937. However a couple of the class survived in India and were returned to this country in the late 1980s, into the custody of the Imperial War Museum at Duxford.
In August 2003, with Peter's assistance, an agreement was signed between Duxford and the Welsh Highland Railway Ltd (Porthmadog) for the long term loan and restoration of Baldwin "794". It will be reconstructed as "590" and it will once again haul heritage trains between Porthmadog, Beddgelert and Caernarfon on the reconstructed Welsh Highland Railway.
We can think of no more fitting memorial to Peter than that this ambitious, and far-sighted project should be successfully completed as soon as possible.
We are therefore inviting donations to help with the restoration of this unique locomotive as a commemoration of Peter's life and as a tribute to his love of the narrow gauge and of this locomotive in particular.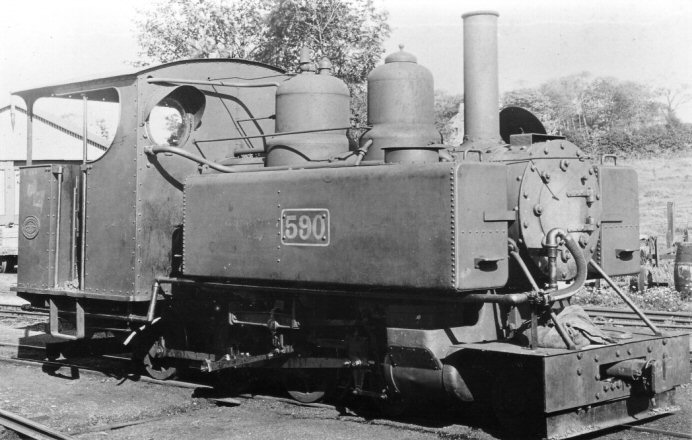 The company is a registered charity (thanks again to Peter) and is eligible for the Gift Aid scheme. All donations will therefore attract Tax Repayment at the rate of 28p for every pound donated to the fund. To ensure that the fund benefits from this, could you please return the enclosed Gift Aid form with your donation.
A newsletter will be issued to all donors from time to time with updates on progress. The newsletter will also be available on our web site.
It is estimated that the scheme will cost about £200,000. A new boiler will be the biggest single item of expenditure, costing in the region of £45,000. The locomotive has already arrived in Porthmadog and is the subject of a permanent public display as the work progresses.
Over £150,000 hs already been received or pledged!
The fund will be administered by the Welsh Highland Railway Ltd, which is a registered charity (No. 1039817). The Company will be responsible for the management of the restoration scheme.
Thank you for supporting this appeal. We hope to see you enjoying taking a ride on our railway in Porthmadog in the near future. If you wish to donate using the banker's order system please allow 4 weeks for processing.
Please help us to restore this locomotive in memory of Peter. Thank you!
Please print out and fill in the forms today and return to:
Baldwin 794 Restoration Fund,
Welsh Highland Railway Ltd,
Porthmadog,
LL49 9DY
Donation Form
I wish to make (please tick)

A single donation of £20 £50 £100 other £

Regular payments - please complete the Standing Order form below = £

I enclose payment by cheque / money order / CAF voucher

I wish to pay by credit / debit card - Please charge £

card number / / / expiry /

card holder name 3-digit security number

your address

contact phone number

Signed:
Date:
Please fill in the form today and return to:
Baldwin 794 Restoration Fund,
Welsh Highland Railway Ltd,
LL52 0ZZ
See below for Gift Aid Declaration
Baldwin 794 Restoration Fund Standing Order
To make monthly donations by standing order, please print out and complete the form below, using Block Capitals. All the details of your bank account can be found on your cheques. Please return the form to WHR for recording and we will send it to your Bank/Building Society.
To:
Bank plc/Building Society
Address:
Post code:
Please pay National Girobank GIR 0AA (Code 72-00-06) to the credit of WELSH HIGHLAND RAILWAY LTD Account no. 94-604-704
Quoting ref (to be inserted by WHR)
the sum of £ . p
(in words pounds pence)
NOW and at monthly intervals until cancelled in writing by me.
Signed:
Date:
Name:
Address:
Post code:
Account No:
Sort code:
Membership number (if applicable):
Please fill in the form today and return to:
Baldwin 794 Restoration Fund,
Welsh Highland Railway Ltd,
LL52 0ZZ
Tax Benefits from your Gifts
Under HMRC rules from 1 January 2013 any gift can qualify for a tax repayment of 25p for every pound to the Company, if you are a UK taxpayer. There is no need to sign a deed of covenant for regular payments, and there is now no minimum for one-off payments. All you need to do is complete the simple declaration below. You should only do this if you are sure you will pay enough income tax in the year to cover the tax repayments. Higher rate taxpayers can continue to claim higher rate tax relief on their tax returns.
Examples:
Your donation
£10
£20
£50
£100
£250
Tax refund
£2.50
£5.00
£12.50
£25
£62.50
Total value
£12.50
£25
£62.50
£125
£312.50


To: Welsh Highland Railway Ltd (registered charity no. 1039817)

I want you to treat all donations I have made since 6 April 2000, and all donations I make from the date of this declaration until I notify you otherwise as Gift Aid donations.

Signed:
Date:
Name:
Address:
Post code:
Account No:
Sort code:
Membership number (if applicable):
Please fill in the form today and return to:
Baldwin 794 Restoration Fund,
Welsh Highland Railway Ltd,
LL52 0ZZ
Give As You Earn
If you would like to make regular donations, you can choose to do so through your payroll through a scheme managed by the Charities Aid Foundation and approved by HMRC. The Russell Appeal will receive substantially more than you donate, especially if you're a higher rate taxpayer. Please see the CAF website for more details.
Data Protection & Your Privacy
We will keep a record of your name and address and donation(s) on a computer. Data so held will not be released to third parties, but we may contact you from time to time regarding the progress of this appeal.
If you do not wish to be so informed please tick this box:
Membership
Please do remember we are all volunteers and we would always welcome new members.