Appeals
The Welsh Highland Heritage Railway is home to many historic locomotives, carriages and objects......
but we need your help to restore them.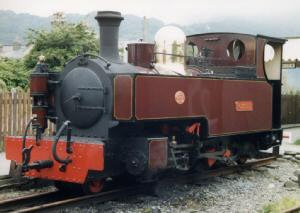 Russell
Hunslet 2-6-2T "Russell", built in 1906, is the only surviving locomotive from the original Welsh Highland Railway. It is now back on home territory at the Welsh Highland Railway (Porthmadog).
We restored the loco to working order in 1987. But "Russell" now needs boiler work and major maintenance on its driving wheels and motion. The total cost of this work is estimated at £250,000.
Please help us raise money to pay for this work.
---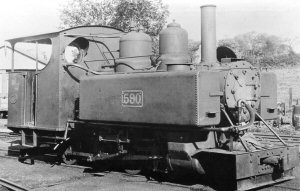 '590' at Dinas shortly after arrival in 1923. The livery was black at that time.
Baldwin 590
The old Welsh Highland Railway only had three locomotives. One was built in the USA by a firm called Baldwin, but was scrapped when the railway closed. But we've found one almost exactly the same (it was out in India at one stage) and we're rebuilding it to look a bit like the old one.
In August 2003, an agreement was signed between Duxford and the Welsh Highland Railway Ltd (Porthmadog) for the long term loan and restoration of Baldwin "794". It will be reconstructed as "590" and it will once again haul heritage trains between Porthmadog, Beddgelert and Caernarfon on the reconstructed Welsh Highland Railway.
Please help us raise money to pay for this work.
---
Thank you!
Diolch yn fawr!